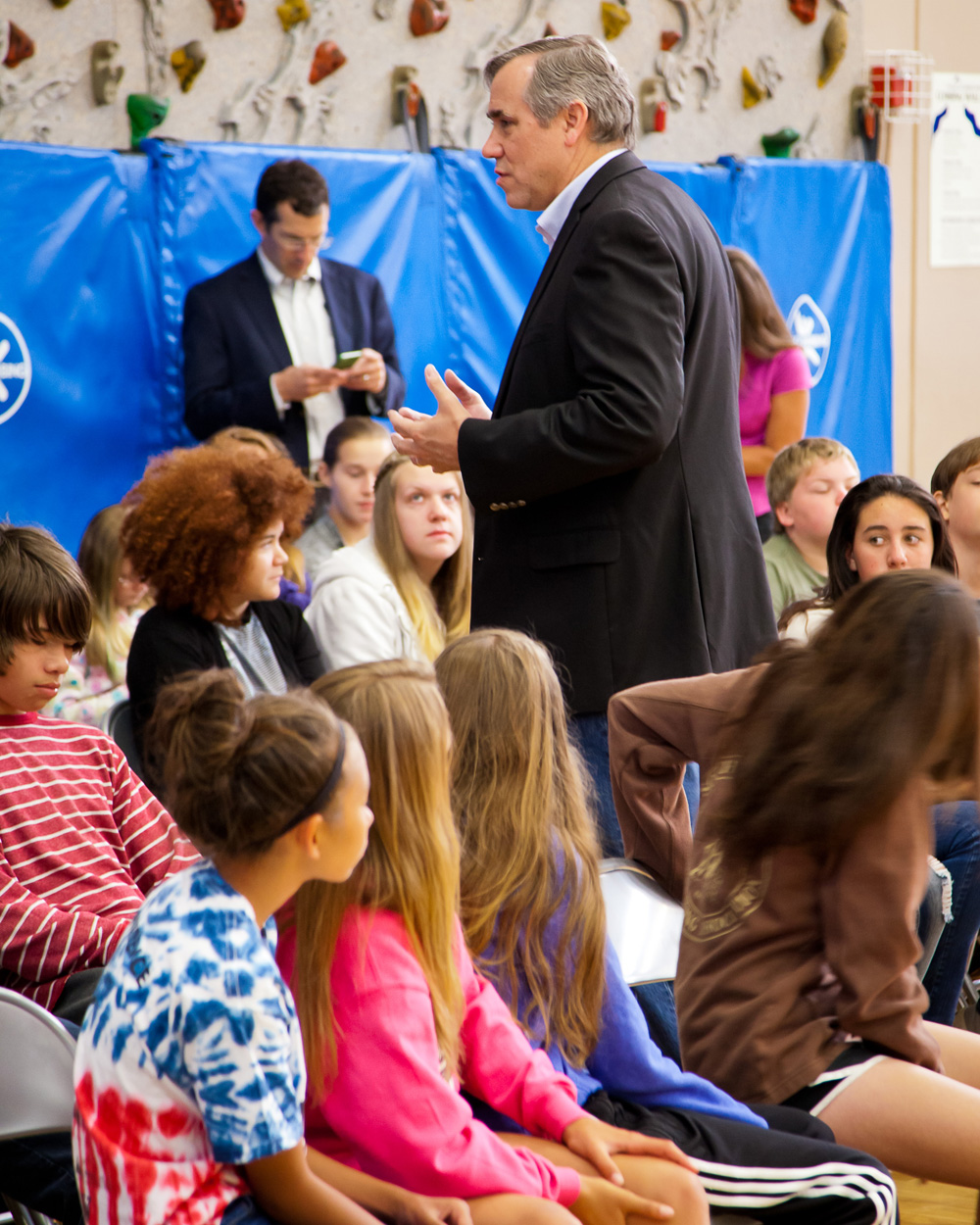 The Big Idea
In 2011, United Way dreamed of the BIG IDEA – 100% High School Completion for the Class of 2020. In 2013 United Way joined with Medford School District 549C and Three Rivers School District on the Big Idea – 100% High School Completion for the Class of 2020. And United Way added Eagle Point School District in 2015.
There are lots of volunteer opportunities. Contact Talia at United Way of Jackson County for a description of the mentoring, tutoring and other opportunities. Volunteer applications are through the Medford School District process – find the application at https://www.helpcounterweb.com/welcome/apply.php?district=medford.
The Big Idea Diary
2012-13 5th Grade
More than 1,000 fifth graders all in one place for one reason – aiming for graduation! Serious work lies ahead for them and for us. At the Big Idea kick-off lunch one student asked, "How much did all this pizza cost?" Big Idea volunteers replied, "It doesn't matter because you're worth it ."
2013-14 6th Grade
One school went to an Oregon Shakespeare Festival Workshop. Another, along with their families, received tickets to the Ashland Independent Film Festival. Many children received a free eye exam and glasses, and other students had tutors and mentors. A total of 430 students received direct services this year. Every sixth grade student in Medford and Cave Junction received a university shirt from around the world – because seeing is believing!
One sixth grade boy in continuous struggle with behavior, anger and his peers was unable to even attend recess without an incident. Through the Big Idea he connected with an incredible mentor from the Outdoor Adventure Leadership program at SOU who met with him weekly. His mentor was there to listen, encourage, support and advocate like no other adult in his life could. They stayed connected through 7th grade to further strengthen positive and healthy relationships!
2014-15 7th Grade
In seventh grade United Way volunteers created a career fair – from film makers to funeral directors. Later in the year all 1,089 went to SOU for the day and engaged in science, environmental studies, health, German, Japanese, theatre and more! U.S. Senator Jeff Merkley visited and presented a flag that flew over the U.S. Capitol. In addition to all these large group activities, more than 600 students received direct services from sports physicals to shoes to transportation.
2015-16 8th Grade
Eagle Point added 251 eighth graders to the Big Idea. The students graduated 8th grade! Wow – four years in with these remarkable students. 698 students received direct services. The Big Idea, in partnership with Lithia 4 Kids, raffled an iPad Mini at each 8th grade Completion Ceremony.
2016-17 9th Grade
Freshmen! The Big Idea cohort now is 1338 strong! The first day of their freshman year volunteers high-fived the 9th graders as they entered their first day of 9th Grade. Graduation is at more than 74%, up 13% since we started. Medford, Eagle Point, Illinois Valley strong! The OHSU-SOU partnership remains and all students will be assessed for drop out risk this year.